We are very fortunate to work in Torrevieja, a unique place where we can enjoy its ideal microclimate for living all year round. With an average annual temperature of +18ºC, we can enjoy the beach and surroundings 365 days a year. If you are considering buying a property in the area, we appreciate you visiting our website and hope that the information you will find here will be of great help.
HISTORY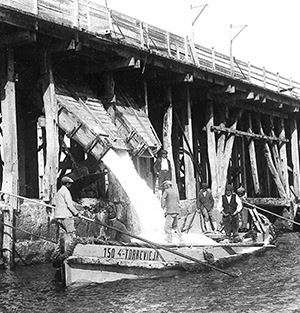 Torrevieja is located on the Costa Blanca, near the lagoons of La Mata and Torrevieja, in the region of Vega Baja del Segura, in the province of Alicante. The city has its roots in the exploitation of the salt generated in the Torrevieja lagoon, which began in 1803 under the administration of the Royal Saltworks. The salt trade with various ports in the Caribbean has been an integral part of the city's history. In fact, the name "Torrevieja" comes from the old watchtower located in the Eras de la Sal, which used to be a jetty for salt. Fishermen from different parts of the world have also used the Torrevieja coastline as a refuge on bad weather days. Today, the salt flats of Torrevieja are the most important in Europe for their high productivity.

TORREVIEJA COASTLINE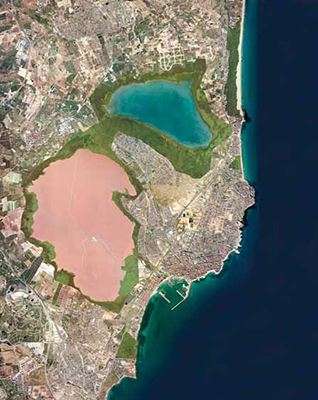 The first thing that catches the attention of Torrevieja if we see an aerial photograph is its environment, where two saltwater lagoons stand out: one pink and one green. These lagoons are part of the Natural Park of the Lagunas de la Mata and Torrevieja, recognized nationally and internationally for its enormous biological richness.
Torrevieja has 14 km of coastline that offer a great variety of beaches, coves and corners to enjoy and refresh. From north to south, the Playa de la Mata stands out, the most extensive of all, with almost 2 km in length and a dune system characterized by the abundance of fossil dunes. If you are looking for a spacious and quiet beach, La Mata is an excellent option. A little further south, we find Cabo Cervera, where the Playa de Cabo Cervera and an old watchtower called the Torre del Moro are located, from which you can admire impressive panoramic views of the sea.
Following the coast, we find many coves ideal for diving or simply enjoying a swim, many of them suitable for bathing. South of the coves, we find Punta del Salaret, which shelters the Playa de los Locos, whose name comes from the old sanatorium that was located there. In addition, on the coast of Torrevieja, it is essential to make a mandatory stop at any kiosk to taste the famous Torrevejense dried octopus.
Continuing along the coast, we come to the Palangre curve and Punta Margalla, where the Monument to the Cultures of the Mediterranean is located, also known as the Columns, a privileged space facing the sea. Finally, we arrive at the heart of Torrevieja where its magnificent promenade is located. This begins at Playa del Cura and runs through the natural pools until it reaches the Real Club Náutico de Torrevieja and the Marina Internacional marina. It is a perfect place to stroll, enjoy the sea views, and relax in the numerous terraces and restaurants that we find along the way.
Following the coastline, we will reach the Acequión area, which offers stunning views of the port. Here we will find many beach bars and restaurants facing the sea to enjoy a good meal. Upon leaving Acequión, we will come across Playa de los Náufragos, which owes its name to the shipwrecks that used to occur near the coast. Many of these ships transported tiles to the Caribbean for trade, and it is still possible to find remains of tiles in nearby seabeds.
Continuing along the coast, we will arrive at La Veleta, Mar Azul, and the protected area of Cala Ferris, a true paradise that will make you feel like you are in the Caribbean. Finally, we will arrive at the opposite end of the city, in Punta Prima, where the boundary between Torrevieja and Orihuela Costa is located.

The coast of Torrevieja is a true paradise for lovers of water sports and marine life. Its crystal clear waters and rich biodiversity make it an ideal place for practicing underwater fishing, snorkeling, and other water sports such as paddle surfing or kayaking.
In addition, the seabeds of Torrevieja are a natural wonder that you cannot miss. The vast extensions of posidonia and its marine richness make diving in its waters a unique and unforgettable experience. If you are passionate about marine fauna and flora, do not hesitate to visit this spectacular place.
But not only the beauty of its beaches and its wonderful biodiversity are reasons to visit Torrevieja. Its beaches also have ISO 9001 and ISO 14001 certifications, guaranteeing their quality and environmental management. This means that you can enjoy clean, safe, and environmentally friendly beaches.
Torrevieja is a perfect destination for those who seek to enjoy nature, practice water sports, and disconnect from daily stress. In addition, its commitment to quality and the environment makes it a responsible and sustainable tourist destination.
CULTURE
Torrevieja boasts a nationally and internationally renowned cultural offering and infrastructure.

The Auditorio-Conservatorio has become the most important cultural infrastructure in the entire city, inspired by the Berlin Philharmonic and considered the most complete and modern stage in the Valencian Community. In addition, it hosts numerous cultural events throughout the year.
Among them, the International Habaneras and Polyphony Contest stands out, an event of great importance in the city that has been declared of International Tourist Interest. This contest focuses on the singing of habaneras, a music of Caribbean origin that arrived in Torrevieja thanks to the trips of local sailors to those lands.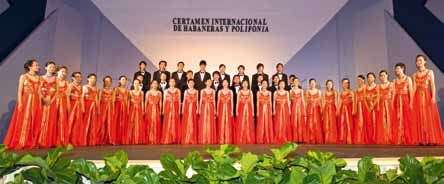 FLOATING MUSEUMS
In Torrevieja, several floating museums can be found, which stand out for their uniqueness. Among them is the S-61 Delfín Submarine, which became the first ship of the Spanish Navy to be established as a floating museum. It is also worth noting that in 1971, Torrevieja presented it with the combat flag.
Another noteworthy floating museum is the Albatros III Customs Surveillance Patrol Boat, which belonged to the customs surveillance service until March 23, 2006, when it was received by Torrevieja and became its second floating museum. The entrance fee includes a guided tour, which makes the experience even more enriching.

GASTRONOMY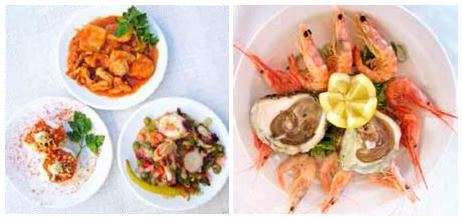 The cuisine of Torrevieja is characterized by its richness and variety of products, both from the sea and from the Bajo Segura orchard. Rice dishes are the star of our gastronomy, with numerous varieties such as rice with vegetables and greens, rice with anchovies, tuna, "a banda", seafood, among others. However, the most emblematic rice dish of Torrevieja is "caldero", made with rock fish broth.
Fish is the basis of Torrevieja's gastronomy, and there are many recipes to satisfy seafood lovers, such as mero gazpacho, fried gato with tomato, grilled sardines, squid, octopus, fried small fish, anchovies, among others. In addition, one of Torrevieja's main appetizers is "Pulpo seco", which consists of sun-dried octopus that is boiled at high heat and seasoned with olive oil and lemon.
The cuisine of Torrevieja can be tasted in any of the bars and restaurants along the Torrevieja coastline, always influenced by the cuisine of the Vega Baja, where a large variety of meats and stews can be found, such as "cocido con pelotas", rabbit gazpacho, snail stew, among others. In short, it is a distinct and quality cuisine that will not leave you indifferent.
SPORTS CITY
The Torrevieja Sports City is an impressive sports facility of more than 300,000 m2, which has a wide variety of facilities dedicated to sports. Its artificial turf football fields stand out, as well as a racket sports area with 10 tennis courts and 8 paddle tennis courts, including a central court with a capacity for 180 spectators. It also has a service building, which includes changing rooms, a multifunctional room, management office, cafeteria, and a 400 m2 gym. In addition, it has 2 pelota courts, a multipurpose and rugby area of more than 3,000 m2, with a capacity for 3,000 spectators, which is being approved for international competitions.
The Torrevieja Sports City also has more than 80,000 m2 of consolidated sports facilities, such as the Cecilio Gallego Pavilion (Blue Pavilion), the "Infanta Cristina" Sports Palace, which has an Olympic-sized heated swimming pool, the Antonio Soria Municipal Park with 2 pelota courts, and the Daniel Plaza Athletics Track. In addition, there is a Municipal Gymnasium, the Vicente García Municipal Football Stadium, and two artificial turf football fields next to the Sports Palace. The area has almost 23,000 m2 of parking space and more than 5,000 m2 of green areas. The Torrevieja Sports City is one of the most important sports facilities in the Valencian Community and has facilities for almost every sport.
TORREVIEJA PORT

Torrevieja port is preparing for an exciting renovation project that will bring new leisure areas and public spaces to enjoy. Thanks to a public-private partnership, the company "Empresas del Sol" is going to redevelop a large area of ​​40,800 m2 to include six buildings with viewpoints and public meeting spaces, as well as an underground car park for 600 vehicles. The leisure area on the first floor will include cinema, bowling, and recreation facilities for all kinds of people.
The Torrevieja City Council is also going to invest more than 8 million euros in the redevelopment of the port area to gain a public space of 49,000 m2. This esplanade will be a multipurpose pedestrian area that will allow the integration of the traditional fair and other occasional events.
The elevated walkway over the eastern breakwater will also be renovated, and a new fish market will be built. All this will be carried out with a budget of more than 19 million euros, with 10.5 million in private investment and more than 8 million in public investment from the Torrevieja City Council.
With this project, the Torrevieja port will become a new public, commercial, and leisure space that will connect the city with the sea through an elevated walkway with stunning views.
FESTIVALS

Torrevieja is a city that celebrates numerous festivals and events throughout the year, making it a very popular tourist destination. One of the most outstanding events is the May Fair, one of the most important festivities of the municipality, where honor is paid to the patron saint of the city, the Virgin of the Immaculate Conception. During this celebration, the streets come to life with processions, cultural activities, and sevillanas contests. In addition, the fairgrounds of Torrevieja become a magical place where numerous booths are set up to taste the delicious food and typical drinks of the region, while enjoying concerts on the main stage and Spanish dance festivals. And if that were not enough, on the closing day, the venue is filled with horseback riders, creating an impressive spectacle that you cannot miss. The Holy Week is another important festival where you can see the processions that roam the streets of the city.
The International Habaneras and Polyphony Contest: This is one of the city's most important events and takes place during the month of July. The contest is a tribute to popular Spanish and Latin American music, especially habaneras, a musical genre that originated in Cuba. During the week-long contest, concerts are held at different points in the city, as well as cultural and recreational activities related to this musical genre.
The Harvest Festival: This event is celebrated in September and is dedicated to wine culture. During the festival, wine tastings are held and activities are organized around the wine culture of the region, as well as exhibitions of traditional music and dances.
In addition, the Youth Week is an event that takes place in July and is especially aimed at young people. During this week, sports activities, concerts, and competitions are held, making it a very popular event among young people.
Another highly anticipated event is the Night of San Juan, a festival that celebrates the summer solstice. During this night, bonfires are lit on the city's beaches and various activities are carried out, such as live music and fireworks displays.
Festivals and events are an important part of life in Torrevieja, as they offer a unique opportunity to learn about the local culture and tradition, enjoy the lively nightlife, and spend unforgettable moments with family and friends.
JANUARY


Three Kings Parade



FEBRUARY


Carnival



APRIL


Holy Week



MAY


May Fair



JUNE
Pilgrimage in honor
of the Virgin of El Rocío and Feast
of the Sacred Heart of Jesus.

JUNE
San Juan Bonfires.
Fireworks display on
Juan Aparicio Promenade.

JULY
Festivities in honor
of the Virgin of Carmen

AUGUST
Calvario neighborhood,
Festivities in honor of San Emigdio

SEPTEMBER
Festival in honor
of San Roque

OCTOBER
Torrelamata, Festivities in honor
of the Virgin of the Rosary

NOVEMBER
Selection of the
Queen of Salt

DECEMBER
Patron Saint Festivities
in honor of the
Immaculate Conception.

MUSEUMS AND EXHIBITION HALLS
The city has a rich historical and cultural heritage that can be explored through a wide variety of museums, monuments, and ancient buildings. Some places of interest include:
Church of the Immaculate Conception: This church is one of the most iconic buildings in Torrevieja. It was built in the 18th century and is considered an outstanding example of Baroque architecture in the Valencian Community.
Museum of the Holy Week: This museum is a must-visit for lovers of Holy Week. It displays numerous religious images, costumes, floats, and objects related to this important festivity in the city.
Torre del Moro: This tower was built in the 14th century and served as a lookout point to protect the city from pirate attacks. It is located in a high place with excellent panoramic views of the coast.
Museum of the Sea and Salt: This is the most important museum in the city, as it represents the history and importance of salt production in the region. It exhibits tools, machinery, and objects related to the salt industry. Additionally, it is fundamentally an ethnological museum where you can learn about the origins of the city and its short but very intense history. Don't leave the museum without taking a look at the exceptional works from the museum's own workshop.
Natural History Museum: This museum is an interesting place to learn about the flora and fauna of the region. It has a large collection of specimens and objects related to nature.
Natural Park of the La Mata and Torrevieja Lagoons: This natural park is a place of great scenic beauty and is home to a wide variety of birds and other animals. It is an ideal place for hiking and enjoying nature.
In addition to these places, the city has numerous ancient buildings, squares, and streets with a unique charm that reflects the rich history and culture of Torrevieja.
MARITIME AND SALT MUSEUM




Location:

Patricio Pérez, 1




Phone:

966 704 643



FLOATING MUSEUM
SUBMARINE S-61 DELFÍN


Lugar:

Fishing pier




Phone:

661 374 257 - 966 704 643


Wednesday to Sunday:
5:00 pm to 9:00 pm
Price:

2€



FLOATING MUSEUM
PATROL BOAT ALBATROS III


Location:

Fishing pier




Phone:

661 374 257 - 966 704 643




Wednesday to Sunday:




5:00 pm to 9:00 pm




Price:

2€



EXHIBITION HALL
VIRGEN DEL CARMEN COMMUNITY CENTER


Phone:

965 719 900 - 965 707 788



SALT INDUSTRY
INTERPRETATION CENTER


Location:

Old Train Station
Avd. de la estación, s/n


Phone:

966 706 838




Visit by appointment only

MUNICIPAL LIBRARY




Location:

C/ Chapaprieta, nº 39




Monday to Friday:




8:00h a 20:30h

LA MATA LIBRARY




Location:

C/ Alta, nº 17




Phone:

966 922 929




Monday to Friday:




9:30am to 1:15pm - 4:00pm to 6:15pm




NATURAL HISTORY MUSEUM




Location:

Former RENFE warehouse
Parque de la Estación
Visit by appointment only
Phone:

966 706 838



EXHIBITION ROOM
LOS ALJIBES


Location:

Jardín de las Naciones




(Closed in summer)




TORREVIEJA PRINTING PRESS




Location:

C/ Hnas. Bazán, nº 53 bajo




Phone:

653 984 310




Tuesday:




11:00am to 1:30pm - 5:30pm to 8:00pm



HABANERA MUSEUM
RICARDO LA FUENTE


Location:

Former Train Station
Visit by appointment only


Phone:

966 796 838



EXHIBITION ROOM
VISTA ALEGRE


Location:

C/ Concepción




Phone:

649 964 803



HOLY WEEK MUSEUM
TOMAS VALCÁRCEL


Location:

Formentera s/n.




Phone:

966 708 037



LIBRARY
AVD. DIEGO RAMÍREZ


Location:

Avd. Diego Ramírez, nº5




Phone:

965 074 323




Monday to Friday:




9:30am to 8:30pm



---
Torrevieja is a city with an incredible historical and cultural heritage, a privileged climate, and an enviable location on the Mediterranean coast. If you're looking for a home in a place where you can enjoy all of this and more, Torrevieja is an excellent choice. Don't miss the opportunity to make your dream of living in paradise come true and come discover everything this wonderful city has to offer.